First-Rate AC Company Serving The Woodlands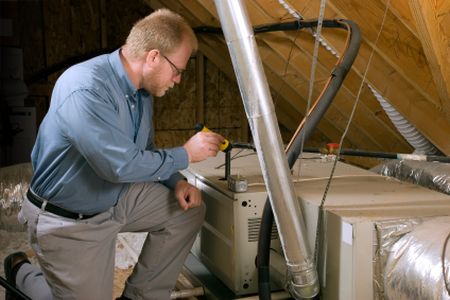 At Doyle Cooling & Heating Services, our goal is to provide families in The Woodlands with the highest quality AC company services possible. Our contractors specialize in air conditioning, heating, and indoor air quality services. We are adept at AC and heating installations and repairs as well as tune-ups and much more. No matter what your HVAC system needs from us, we can provide it with the utmost care and attention to detail. The one constant in all of our work is our goal to maximize your satisfaction.
Give us a call today if you need to hire a professionally licensed AC company in The Woodlands. Our courteous and polite staff is here to help you will all of your HVAC needs, from the smallest repairs to emergency AC services. We would be happy to answer any questions that you may have about our exceptional services, so let's schedule your appointment today!
The Woodlands Trusts Us To Be Their HVAC Contractor
You and your family rely on your home's HVAC system for comfort throughout the year, so one of your biggest priorities is keeping that system in great condition. You need to know that you can depend on your HVAC system throughout the winter and summer months, and the professional HVAC contractors at Doyle Cooling & Heating Services aim to help you ensure that these parts of your home are always in excellent condition. Whether you're looking for tune-ups and maintenance services, intensive repairs, or a replacement or installation, you can depend on our contractors for excellent work.
Each of our contractors is a professional with extensive experience working with HVAC systems, so you can always count on us for quality service. We'll take care of any problems that you encounter as quickly as possible, and we'll ensure that our repairs are always thorough and accurate. We'll always do whatever it takes to guarantee your satisfaction with any services that we provide.
Air Conditioning Repairs For Efficient AC Units In The Woodlands
You should have your cooling system repaired as needed because it prevents future breakdowns. Here in The Woodlands, we depend on our cooling systems to work when it gets too hot outside. Sometimes, when they are run too much, they break down at the most inconvenient times. System failure is very common in air conditioners because homeowners are not aware of how hard they are running their systems, especially during the summer. An overworked cooling system is like a car that's in need of an oil change. The more you run it, the more at risk you put it.
Having singular problems with a unit such as in the fan motor can quickly turn into something bigger. We all know what bigger problems cause us-- headaches and extra money! Doyle Cooling & Heating Services wants to be the AC company you can rely on for the best air conditioning repairs in The Woodlands to keep those headaches and extra costs at bay.
Reviews & Testimonials on Doyle Cooling & Heating Services in The Woodlands, TX
There are currently no reviews or testimonials, check back soon! Call your expert a/c repair company today!