Kingwood - Houston Relies On Doyle Cooling & Heating Services To Be Their Quality AC Company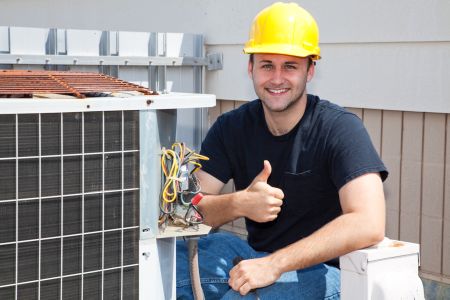 When you're looking to hire a professional AC company to work on your home in Kingwood - Houston, it's because you need your home to be comfortable for the people who live inside. So at Doyle Cooling & Heating Services, we work with the number one part of your home that most effectively contributes to that comfort: your HVAC system. We know how important this system is to you, your home, and your family, so when you hire us for any work on it, we don't take the responsibility lightly.
We've gained a reputation as the most trusted and dependable AC company in the Kingwood - Houston area, and that's no accident. We've consistently provided our customers with not only quality workmanship, but professionalism and premier customer service as well. We're not done with any job until you're completely satisfied with the work that we've done, and we'll always offer upfront, honest, and accurate estimates of our costs. Give us a call today to schedule your appointment, or to ask any questions you have about the services we provide. We'll be looking forward to assisting you!
The HVAC Contractor You Can Trust In Kingwood - Houston
Throughout the year, it is important for you to have a completely reliable and functional HVAC system within your home. During the winter, you and your family rely on your heater for the warmth and security you expect within your residence. During the summer, your air conditioner provides your family with cool comfort. And at all times of the year, you can rely on Doyle Cooling & Heating Services to provide you with the highest quality air conditioning and heating maintenance services.
We're in this business for one simple reason: in every project we undertake, we strive to honor the trust that local families and property owners show in us by providing the highest quality services possible. We know that your HVAC system is of the utmost importance to you. When you hire our Kingwood - Houston team, we will treat the services as if we are performing them in our own home. With this mindset, we can guarantee that you will be completely satisfied with all of our expertly performed services.
Kingwood - Houston's Top-Rated Contractor Providing Air Conditioning Repairs
During the peak summer months in Kingwood - Houston, it's not uncommon for the temperatures to reach sweltering heights, and when they do, you need your air conditioner to be running efficiently so that you can keep your home comfortable and your cooling costs low. You need your AC to be in the best condition possible during the cooling season, but most homeowners don't have their air conditioners serviced until serious problems have developed. By that time, they need complicated and expensive repairs, and they may even be in an emergency situation. If your AC is going to break down, it will most likely happen when the unit is being used the most, which is during the hottest parts of the year. So if you don't take care of any air conditioning problems as soon as possible once they develop, it's very likely that the system will break down and leave you in need of emergency AC repairs.
At Doyle Cooling & Heating Services, our air conditioning contractors will do whatever it takes to keep your Kingwood - Houston home's cooling system in the best condition possible at all times. As soon as you notice any kinds of problems with your system, call our professionals for prompt service, and we'll be ready to tackle the job with our industry skills and expertise!
Reviews & Testimonials on Doyle Cooling & Heating Services in Kingwood - Houston, TX
There are currently no reviews or testimonials, check back soon! Call your expert a/c repair company today!