Air Conditioning Repairs To Keep Your Spring Home Cool & Comfortable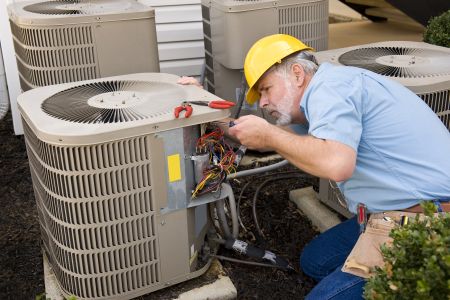 For reliable air conditioning repairs in the Spring area, there's no other name to know than Doyle Cooling & Heating Services. Anyone from Spring knows that summer around here can feel like living inside a furnace, and we depend on our air conditioning units for some relief from such sweltering temperatures. But it seems like AC units tend to fall into disrepair when we need them the most, and when you find yourself in need of air conditioning repairs, you need to have an AC company you can count on for reliable repair services. Let us be that company for you.
With decades of industry-related expertise behind our work, you can be confident about the level of skilled workmanship we'll invest in your air conditioning repair project. We know exactly what it's like to live without a working AC unit, which is why we work tirelessly to ensure that no one in Spring has to endure it. With prompt response times and quick, efficient work, your broken air conditioning system will be blowing cool air in no time after a visit from our team. Give us a call when you could use high-quality air conditioning repairs or even air conditioning installations for your Spring home.
AC Repair Specialists
To ensure that your air conditioner operates at peak performance at all times, it is essential to conduct minor repairs and maintenance throughout its service life. At Doyle Cooling & Heating Services, our air conditioning contractors are dedicated to providing local homeowners with high-quality air conditioning repairs when you need them most.
Your air conditioner is a complex system with many moving parts. If it's not properly repaired when needed, it could become highly susceptible to inefficiencies and extensive damage down the line. Because your air conditioner becomes less efficient when in disrepair, your AC has to work harder than necessary in order to provide your family with the comfort that they desire within your home. This extra strain shortens the service life of your air conditioner, causes damage and system failure, and results in higher energy bills.
Our air conditioning repair specialists have the solutions to all of these problems. When you hire us to conduct repairs on your unit, you're ensuring that your AC operates in the most effective and efficient way possible. Our routine air conditioning repairs result in monetary savings in the short and long term. You'll enjoy reductions in your monthly energy bills and reduced repair costs. Repairs also eliminate the need for complete system replacements down the line.
How Can We Help?
As a local leading AC company for Spring, Doyle Cooling & Heating Services takes care of a variety of common issues. Some examples of the AC repairs we take on are:
Refrigerant leaks: These are a hassle because they have to first be detected in order to be repaired. This can greatly affect the final cost of the job, but we always work with our customers to make certain they have an idea of what the final cost will be.
Broken thermostat: The thermostat is the entire brain of your entire cooling system. Obviously, that means that if something is wrong with it, your AC won't even work. Luckily, this is usually a task that involves minimal costs and is a quick fix.
Compressor issues: One of the bigger and more costly projects is the replacement of the home air compressor. The good news is that even if you need this done, we will provide you with the fairest price, without the need to compromise the quality of the materials or labor.
The bottom line is that we want to provide you with the service you need while ensuring total customer satisfaction. For all of your AC repairs, let us take care of them and go above and beyond to deliver the best results at an affordable rate. Call your expert a/c repair company today!