Ductless Air Conditioning Professionals In Spring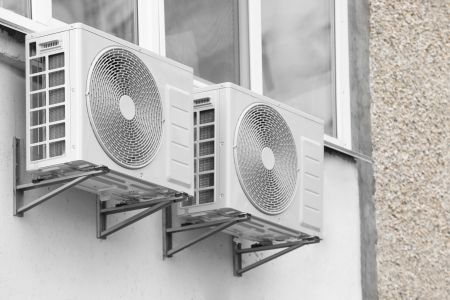 When you need ductless air conditioning in Spring, it's wise to call on Doyle Cooling & Heating Services. Most homes in our area have central heating and air-- it's the general norm for most homes in the country. But ductless air conditioning systems can be equally as effective for home comfort as central systems. Having a ductless system means that there is no ductwork involved to heat or cool your home. Instead, the system is made up of an indoor handler and outdoor condenser. There a quite a few sizes and styles of ductless air conditioning units, but the most popular choice among homeowners is the ductless mini-split installation, which takes up minimal space and gives you easy control over a room's temperature.
Doyle Cooling & Heating Services is the leading AC company for Spring, and we can't wait to help you take care of your ductless air conditioning needs. We are the area's most trusted team when it comes to HVAC repairs, installations, and tune-ups, so don't hesitate to call us when you need an expert team to help with your heating or cooling system.
Ductless AC Systems
If you live in a space that lacks a conventional HVAC system, our team at Doyle Cooling & Heating Services has the solution for you. Ductless air conditioning units provide a more efficient, space-saving way to cool and heat your Spring home. The benefits of installing a ductless AC system include:
Saves space: Where central HVAC systems are bulky and invasive and window units are unsightly, ductless air conditioning systems are simple and compact. The outdoor compressor can attach to multiple indoor handlers, taking up much less space.
Easy maintenance: Because ductless air conditioning systems have no ductwork to keep up with, maintenance and cleaning are easy. All you have to do is tidy the outdoor unit, change filters, and ensure the vents are clear.
Energy efficiency: Ductless systems help with energy efficiency by giving you the freedom to turn off the units in different rooms when you don't need to use them. They also never leak due to lack of ductwork, so you won't have to worry about wasted air.
Easy installation: Due to their need for invasive ductwork, traditional HVAC systems are a pain in the neck to install and can keep you out of your home for days. However, ductless systems are easy to install because of their simplicity, so installation could take less than a day in a small home.
Call The Spring Experts For Ductless AC Units & More
Doyle Cooling & Heating Services is proud to be the AC company providing Spring homeowners just like you with ductless air conditioning systems. With a brand new ductless unit, you can get the control you want for your home's temperature and climate, especially in rooms that you struggle to keep cool or warm.
We love serving our community with high-quality service and results in the form of ductless systems and more. We work with familiar, respected manufacturers to make sure you're getting what you deserve for your home-- the very best. Call us today if you're interested in a ductless air conditioning system for your home or any of our other HVAC services. Call your expert a/c repair company today!