Furnace Repairs To Maintain Your Spring Heating System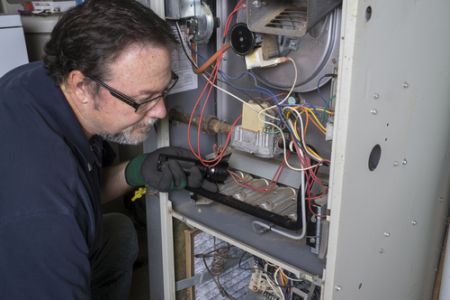 If you're in the Spring area and your furnace starts giving you trouble, contact Doyle Cooling & Heating Services immediately! Furnace repairs are one of the many expert services we offer to homeowners in our area and we're always happy to help our neighbors in need.
Doyle Cooling & Heating Services is the leading heating contractor for Spring, and our many years on top of the business are proof of that. Any time you require furnace repairs, we're here for you with our industry skills and commercial-grade tools and equipment. For heating repairs that you can rely upon, trust none other than your local experts at Doyle Cooling & Heating Services!
Experts At Fixing Furnaces
Whether your furnace is an older model or a new and more efficient unit, Doyle Cooling & Heating Services has the furnace repairs team that can fix it. There's nothing more unsettling than waking up to an ice-cold house or worrying that your furnace might kick the bucket any minute. Let our five-star furnace repair technicians take the worry from your minds.
A broken furnace isn't necessarily one that has stopped working altogether. Keep an eye out for these common furnace problems:
Rusted flue: Rust can take hold of your flue if you have a plumbing leak or moisture coming in from the ceiling. Rust is dangerous because if it corrodes through your flue lines, carbon monoxide can be released inside your home.
Unusually high energy bills: There are many reasons you may have higher energy bills, and one of them may be your struggling furnace. Problems such as dirty air filters can make your furnace work harder to meet your desired indoor temperature.
Unexplained water: Many people don't know that much like air conditioners, gas furnaces can produce a small amount of water. What's important to keep in mind is if the water is leaking while your furnace is running because then furnace repairs are needed.
Flame color: If you can see the burner flame in your furnace, it shouldn't be yellow. Yellow flames mean that you have a dirty burner, and this should be taken care of by the pros.
Furnace Age: Furnaces have a limited lifespan, so the older your furnace is, the more likely it's going to experience problems. Older furnaces will require repairs more often, and you may wish to consider a furnace replacement.
There are many other signs to look for when considering if you need furnace repairs or not. Contact Doyle Cooling & Heating Services, and we'll be happy to discuss any problem you may be experiencing with your furnace.
We Can Solve All Of Your Heating Issues
Do you need more than furnace repairs? Doyle Cooling & Heating Services has many heating services to make your Spring home as comfortable as possible. Contact us for all-star treatment in specialties such as:
Furnace replacements
Heat pump repairs
Heating installation
We value your comfort as much as we do our own, and when you rely on Doyle Cooling & Heating Services, you can be confident you're getting the highest standard of customer care in the business. When you need heating repairs or other services in Spring, contact our expert team! Call your expert a/c repair company today!