Emergency AC Service For Help Spring Homeowners, Day & Night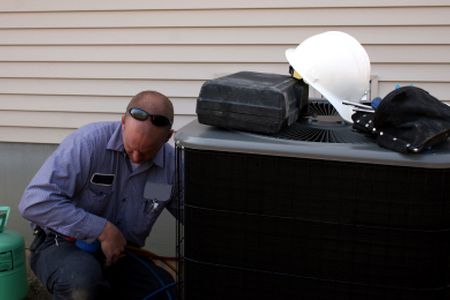 For emergency AC services in Spring that you can rely on 24/7, call Doyle Cooling & Heating Services. Your air conditioner could stop working for nearly any reason, and it could happen at almost any time. It will most likely break down when it's being the most, which is when you need it the most: during the hottest parts of the year, especially here in Texas. If your air conditioner stops working while the temperatures in Spring are 90° F or higher, it could leave your family in an uncomfortable situation. When outdoor temperatures are at their peak highs, keeping your home cool isn't just a matter of comfort and convenience. Often, if you're without cooling during this time, it can become a safety and health concern for you and your family.
If your air conditioning unit ever breaks down, the professional AC company for Spring, Doyle Cooling & Heating Services, can provide you with prompt and professional emergency AC services. We understand that you can't always wait for a scheduled appointment, and sometimes, you can't even wait for regular business hours to resume. That's why we are always ready and eager to take care of any problems that you encounter with your air conditioning unit. Our professionals are available 24/7 to help you make sure that your air conditioner is completely functional.
24/7 Air Conditioning Repair
When problems with your Spring home's air conditioning system occur, you need quick service as soon as possible. However, you also need that service to be completely reliable. Here at Doyle Cooling & Heating Services, our professionals are always ready to provide you with prompt and professional repairs. When you request emergency AC service, we'll be on the job as quickly as possible, and we'll provide you with thorough and accurate repairs.
All of our HVAC contractors are licensed, trained, and experienced professionals. We'll be able to diagnose any problems with your home's air conditioner quickly and accurately, then we'll make sure that they're repaired thoroughly and completely. We know how much you depend on our professional AC repairs contractors to make sure that your cooling system is kept in excellent condition at any time, day or night, and that's why we work so hard to provide you with the best emergency AC services in Spring.
Preventative Care For Your AC
While we're happy to be your emergency AC service company, we also like to educate our customers on how to avoid emergencies in the first place to make your life easier and stress-free. The best way to make sure that you're never in an emergency situation with your air conditioning system is to have preventative maintenance regularly performed by a professional. Our specialists offer many regular maintenance services, like air conditioning tune-ups, to help you keep your home's air conditioner in great condition at all times. With tune-ups and maintenance, we'll be able to eliminate any problems with your AC before they turn into major (and expensive) issues. Call your expert a/c repair company today!