Ductless Mini-Split Installation For Total Spring Comfort Control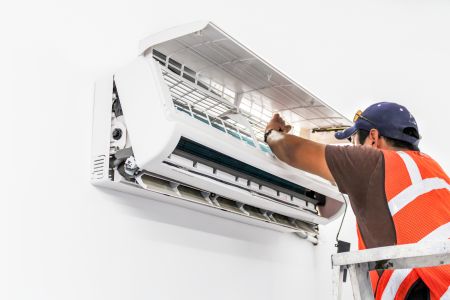 When you're in need of an expert to perform your ductless mini-split installation services in Spring, call none other than Doyle Cooling & Heating Services. There are a few ways you can upgrade your home's HVAC system, and one of the most popular options is through a ductless mini-split installation. As an expert Spring AC company, we know that this system not only makes it easier to heat and cool portions of your home that your central system might not reach, but it can also save you some extra cash. With the ability to remotely control the climate of your space, ductless mini-splits provide a more energy-efficient way to heat or cool your home that can save you money on your utility bills. Here at Doyle Cooling & Heating Services, we're proud to be Spring's leading provider of ductless mini-split installations and ductless air conditioning, so don't hesitate to reach out to us when you want to upgrade your home with this special unit.
Ductless HVAC Equipment Installer
Alongside their compact size and energy efficiency, a big advantage of ductless mini-splits is their easy, simple installation. This innovative air conditioning unit was created to heat or cool individual zones in your home that might not get what your central HVAC system offers. Typically mounted to a bracket on your wall, ductless mini-splits are minimally invasive and easy to control with a handheld remote. When we perform your ductless mini-split installation, you'll love how quickly we work and how smoothly the process will go. We'll ensure the system is properly mounted, run the lines where they need to go, and install the outdoor system. For a reliable, hassle-free ductless mini-split installation in Spring, call on Doyle Cooling & Heating Services!
Benefits Of A Ductless Mini-Split
As you've likely gathered from its name, a ductless mini-split doesn't need to be connected to ducts in order to serve you. Because of their ductless nature, these AC units provide a versatility that traditional systems can't match. Since they're not tied down by ductwork, ductless mini-splits can be installed pretty much anywhere in your home. You can easily control which room gets cold air or heat and for how long.
There's no need to cool down a room that's empty so the space's mini-split can be easily turned off. However, if someone enters the room, they can adjust the unit to the climate they see fit! No need to waste energy (and money) cooling rooms in your home that aren't being used. Ductless air conditioning units that are managed well can offer you lower energy bills each month while still doing their job cooling your home. Call your expert a/c repair company today!