Top-Notch AC Company in Houston Heights - Houston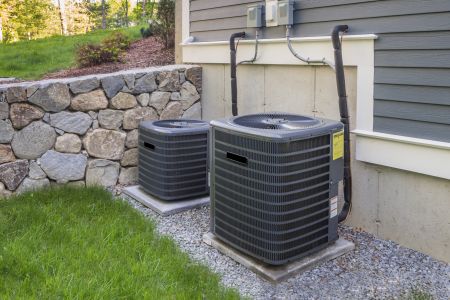 For a reliable AC company you can call for all of your HVAC needs in Houston Heights - Houston, you can call on Doyle Cooling & Heating Services. You rely on your heating and cooling system to keep your home comfortable during extremely hot and bitterly cold weather, but just like all home systems, it will experience faults, issues, or even fall into disrepair. When this happens, you shouldn't just call on any AC company you find online-- you need a true industry professional, and you'll find that with Doyle Cooling & Heating Services. We offer repairs, replacements, maintenance, and installations for homes in Houston Heights - Houston that need it most, as well as 24/7 emergency services for you when you can't wait until the next business day. We're only a phone call away when you need high-quality HVAC services, so don't hesitate to call us when you need the help of an expert.
Houston Heights - Houston Depends On Us For Air Conditioning Repair
During our hot summers in Houston Heights - Houston, it is absolutely essential for you to have a reliable air conditioner in your home. You and your family rely on your air conditioner for the comfort that you expect and deserve within your residence. If there are ever any problems with your air conditioner, you and your family can suffer immensely. The air conditioning contractors at Doyle Cooling & Heating Services are here to help you with all your air conditioning repair needs.
Each and every time a local customer trusts us with their AC repair needs, we are honored to be the ones they chose to help. We understand the importance of your HVAC system and as such, in every project we undertake, our professionals strive to honor that trust by providing the highest quality services possible. By bringing this mindset to everything that we do, we can guarantee that you will be completely satisfied with our air conditioning repair services.
Houston Heights - Houston's Most Reliable HVAC Contractor
If you're one of the many homeowners out there who are looking for the name of a professional HVAC contractor you can trust to provide the repair, installation, and tune-up services you need, you've come to the right place. Doyle Cooling & Heating Services is the premier heating and cooling specialist offering comprehensive HVAC services in Houston Heights - Houston.
Anytime your system experiences a problem of any kind, it can cause a major disruption around your house. But with the help of our skilled technicians, you can rest assured that the problem will be addressed both quickly and accurately, no matter how complex it might be. Whether you're looking for heating or air conditioning repairs, maintenance, or even new system installations, our team of skilled professionals has what it takes to get the job done. If you have any questions about our full line of high-quality heating and cooling services, or if you would like to schedule an appointment for one of our technicians to come out and take a look at your system, give us a call today.
Reviews & Testimonials on Doyle Cooling & Heating Services in Houston Heights - Houston, TX
There are currently no reviews or testimonials, check back soon! Call your expert a/c repair company today!