Expert AC Company For Magnolia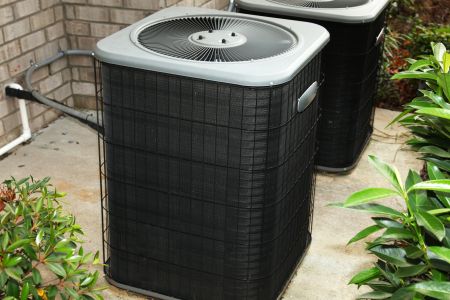 One of your biggest priorities as a Magnolia homeowner is keeping your home as comfortable as possible throughout the year. At Doyle Cooling & Heating Services, our professional heating and AC company understands what a crucial role these parts of your home play in the lives of you and your family, so we strive to help each of our clients keep them in the best condition possible. We provide a wide range of HVAC services, from preventative maintenance in the form of heating tune-ups to emergency AC repairs and more. We'll always be able to ensure that your heating and air conditioning systems are totally effective and efficient.
Our Magnolia heating and air conditioning contractors are all fully licensed, professionally trained, and extensively experienced, so when you rely on us, you can always rely on quality workmanship and professional service. We're committed to ensuring that all of our clients receive the absolute best services possible, and we'll always do whatever it takes to guarantee your complete satisfaction with all of the services that we provide. Give us a call with any questions you have about our AC company or to schedule your appointment in Magnolia, and we'll be looking forward to assisting you.
Magnolia's Number One HVAC Contractor
Just one part of owning a home is keeping up with its HVAC system. It ensures the comfort of your entire home, after all, so you want to make sure it gets the best care you can afford. At Doyle Cooling & Heating Services, our dedication to quality workmanship and customer service has made us a leader in residential heating and cooling services in Magnolia. Our certified, highly trained staff of HVAC technicians can help you with all of your household heating and air conditioning needs, from furnace replacements to air conditioning maintenance and tune-ups. We'll help keep your Magnolia home comfortable throughout the year so you and your family always have a place to escape the heat and cold.
First-Rate Air Conditioning Repairs For Homes In Magnolia
Your air conditioning system needs to keep your home cool during the hottest parts of the year, but you also need to know that it runs efficiently so that you're not overpaying for your cooling costs during those warm months. You need your AC to be both functional and efficient, and you can rely on our Magnolia air conditioning contractors to help you keep it that way. Doyle Cooling & Heating Services is happy to provide maintenance services that will keep your home's cooling system effective and energy-efficient, and we'll be available for repairs when you encounter any problems with your AC. Repairs should be taken care of when they are needed so you can avoid expensive cooling costs as well as replacements down the line.
Reviews & Testimonials on Doyle Cooling & Heating Services in Magnolia, TX
There are currently no reviews or testimonials, check back soon! Call your expert a/c repair company today!